This builds on a brief article that was contributed to Eye (no. 33, 1999). The old text is given here much as it appeared in that magazine, with small adjustments made to reflect that the piece is now twenty-six years old. This is supplemented by a fresh section that discusses Hat Hut's recent 'Revisited' series.
With Hat Hut, the musical content and the graphics, typographics and architecture of the packet, are fused more than most. Werner Uehlinger, who runs the label from Basel (before that, Therwil in the same Swiss canton) has a telling story of how it began in 1975.1 An enthusiast for the new free jazz of that time, he made a visit to the USA, meeting among others the multi-instrumentalist and composer Joe McPhee. They formed a plan to publish a record. McPhee would look after the recording and production of the vinyl discs, Uehlinger would see to the sleeves. Five hundred of each item were shipped across the Atlantic, and McPhee's Black magic man appeared in an edition of 1000, split between the USA and Switzerland. Eighteen titles followed, to comprise the label's first series, identified by letters rather than numbers. The venture has carried on in this spirit: documentation of some of the essential music of our time, in close co-operation with the musicians, and with careful attention to its presentation.
Over its first 25 years of production, Hat Hut's sleeves and packs showed several inventive solutions to the problem of the genre: the unique solution, or the common thread of series design? There are arguments for both. Individual solutions may cost more design time, may amaze the customers more, but a label identity won't be established. Series design will bring economies of production, but may bring boredom and, if they look too alike, confusion over which CD one already has. Or it may be that series-driven collectors will begin to want the lot.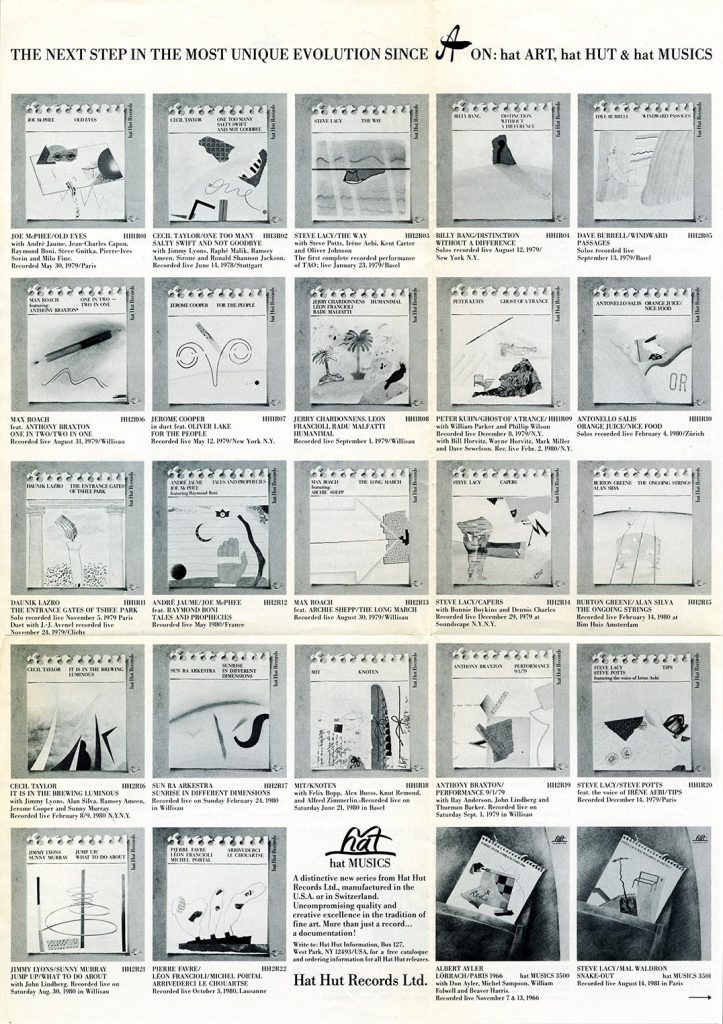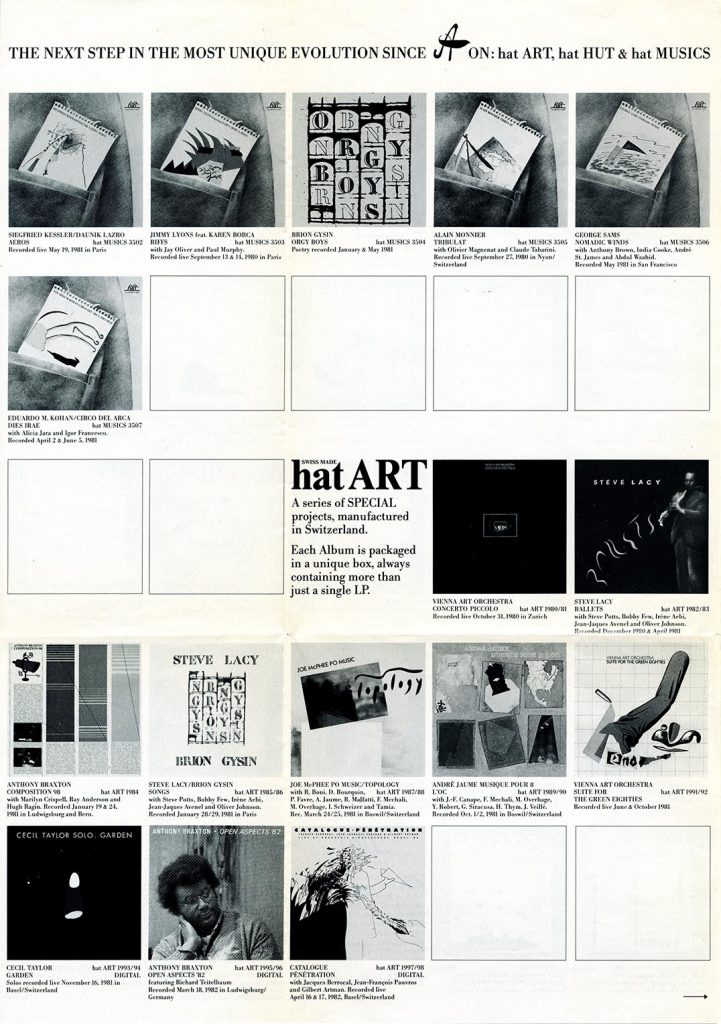 Hat Hut leaflet, early 1980s (1415 x 297 mm), showing the second series of LPs (first side) with illustrations by Klaus Baumgärtner, the short-lived Hat MUSICS series (first and second sides), and the Hat ART series (second side) with covers by various designers.
The second series of LPs ('HHR'), issued from around 1980, provided some resolution of these opposing pulls: the trompe-l'oeil image of a sheet torn off from an illustrator's notebook, then with a fresh illustration drawn on it for each title. These were the work of Klaus Baumgärtner. But the label established itself in listeners' and collectors' hearts with its next series of LPs: Hat ART. None of these cover images bore any relation to the other; they were merely appropriate to the music, and included memorable work from several good Central European designers. The unifying element was the corrugated card box, which was cut, creased and folded so that it fastened without glue or other fixing device. Inside were one or more sleeved discs, a postcard of the musicians (for sending through the post – but you always kept it), and leaflets or cards about the label: all done with notable taste. By now the music was as much European as American, and its description as 'jazz' merely a convenient marketing move. Categories are not what come into your mind while listening to the widely varied, composed and improvised music of an Anthony Braxton or a Steve Lacy, of the Vienna Art Orchestra or the Mike Westbrook Orchestra.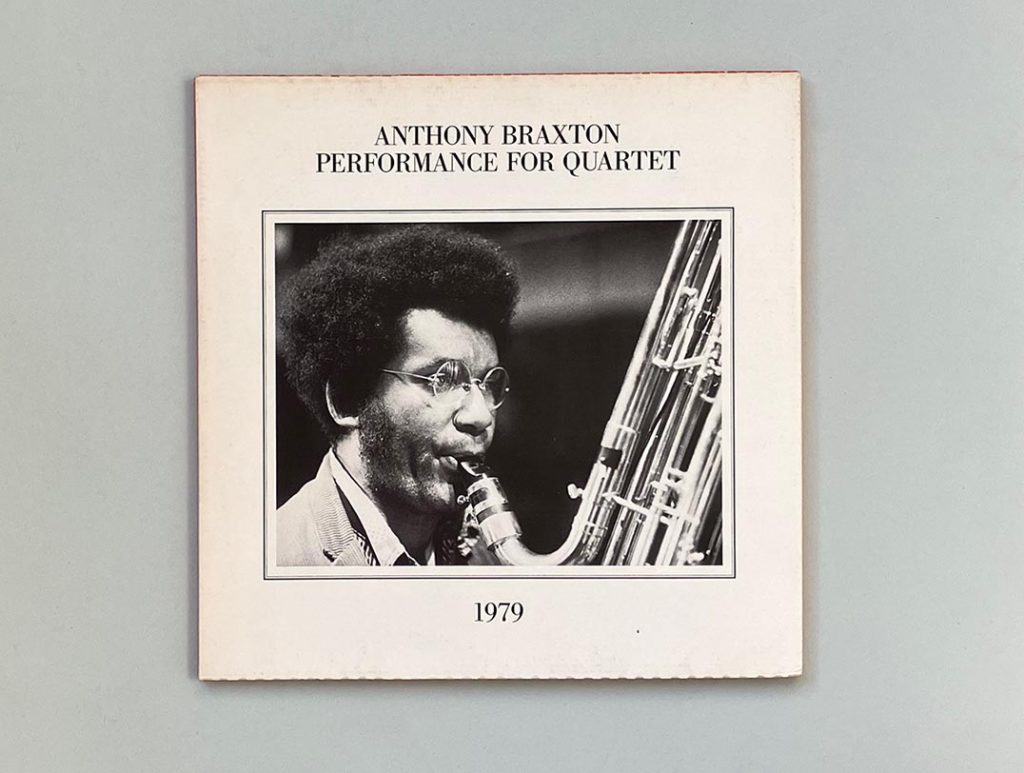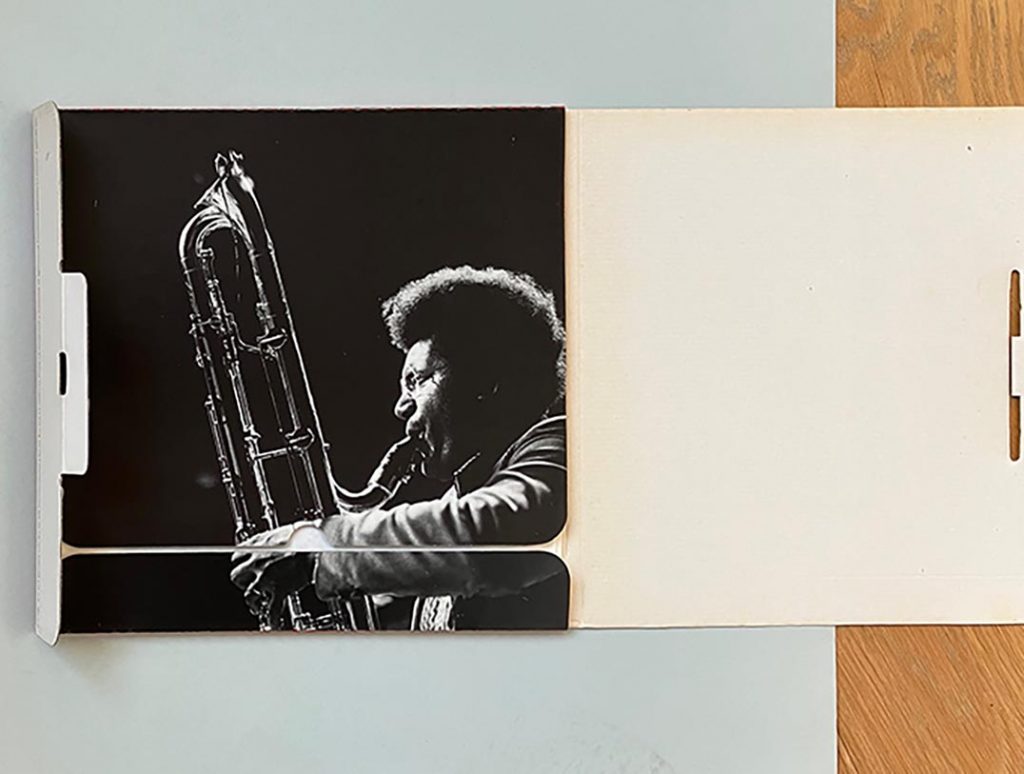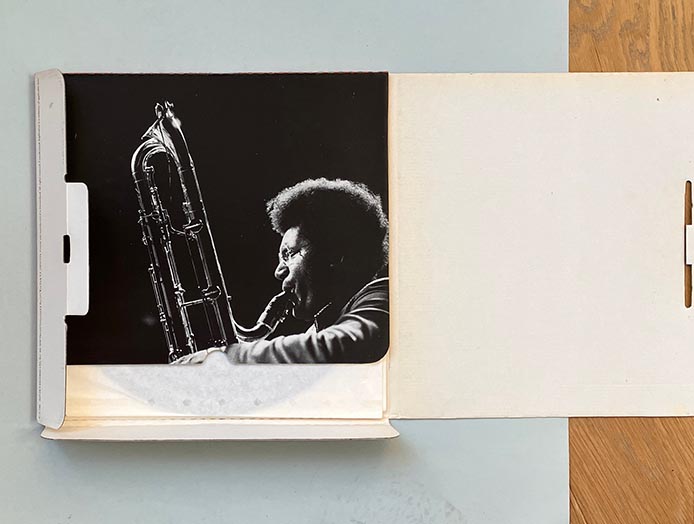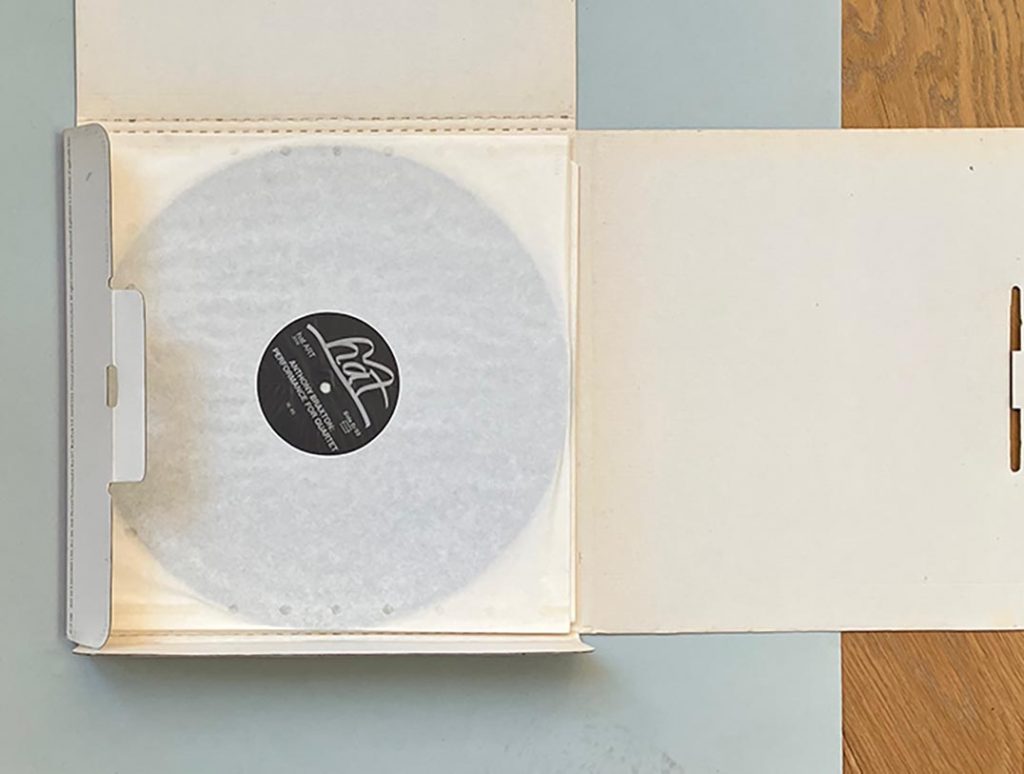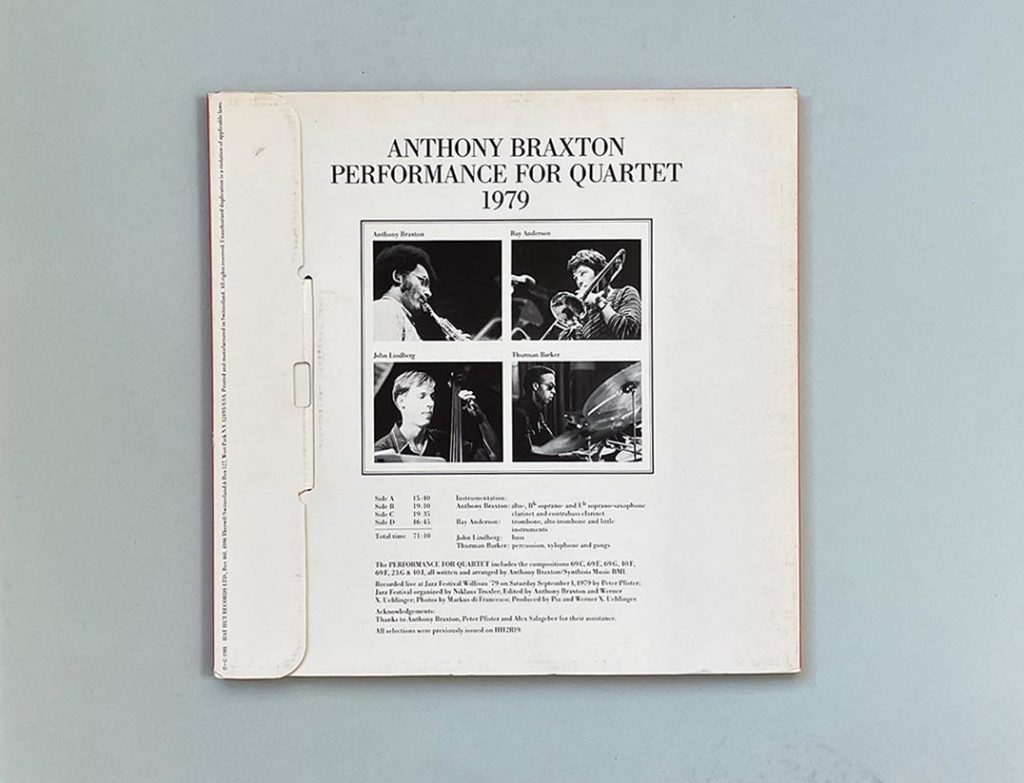 Anthony Braxton, Performance for quartet, 1979 (HatART 2019, 1981); the design is uncredited.
In 1987 Werner Uehlinger sold the electroplating business that had been his day job to work full-time on Hat Hut. This was also the moment when the label went over to all CD production. Some of the Hat ART titles began to be put into CD format, in jewel-box packs that carried over the images on the LP sleeves. But, characteristically, new series with unifying design approaches were started to meet the requirements of CDs.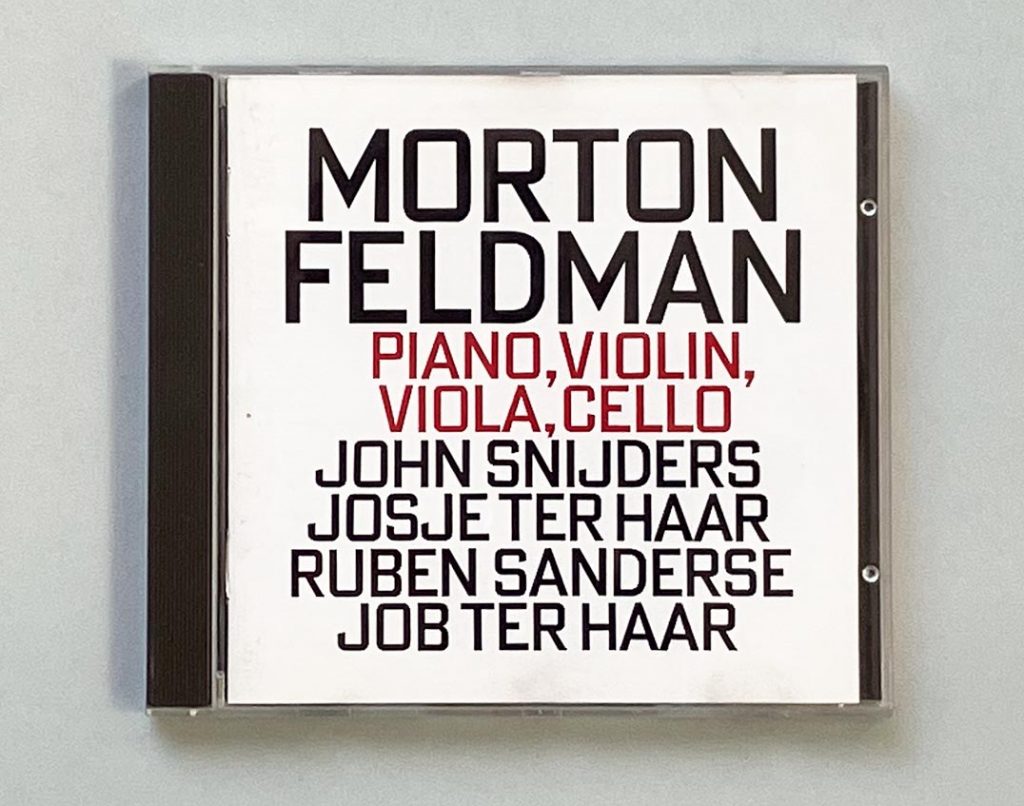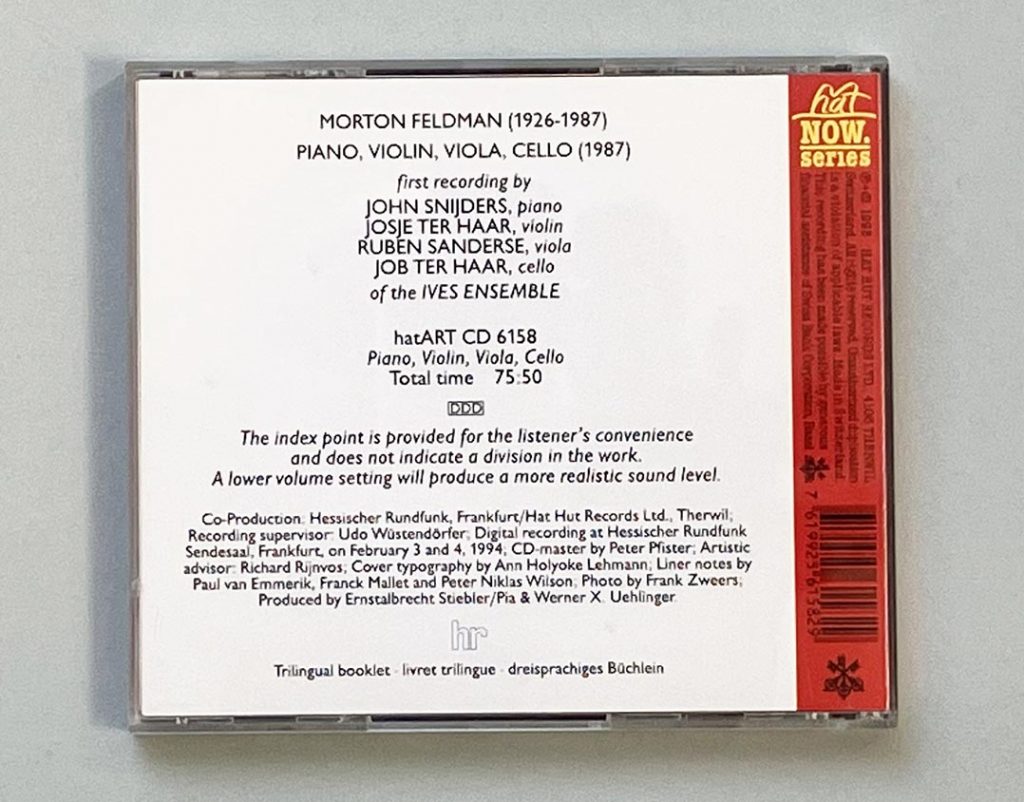 Morton Feldman, Piano, violin, viola, cello (HatART 6158, 1995) has typography by Ann Holyoke Lehmann.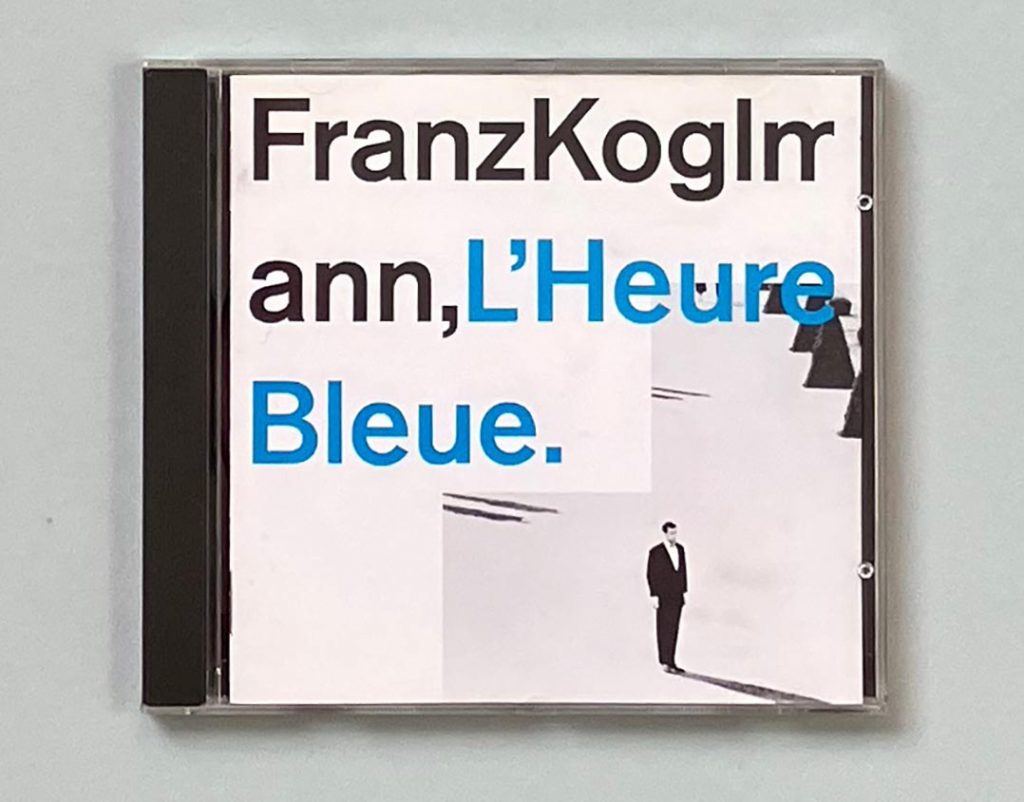 Franz Koglman, L'heure bleue (HatART CD 6093, 1991) uses Ecke Bonk's series design.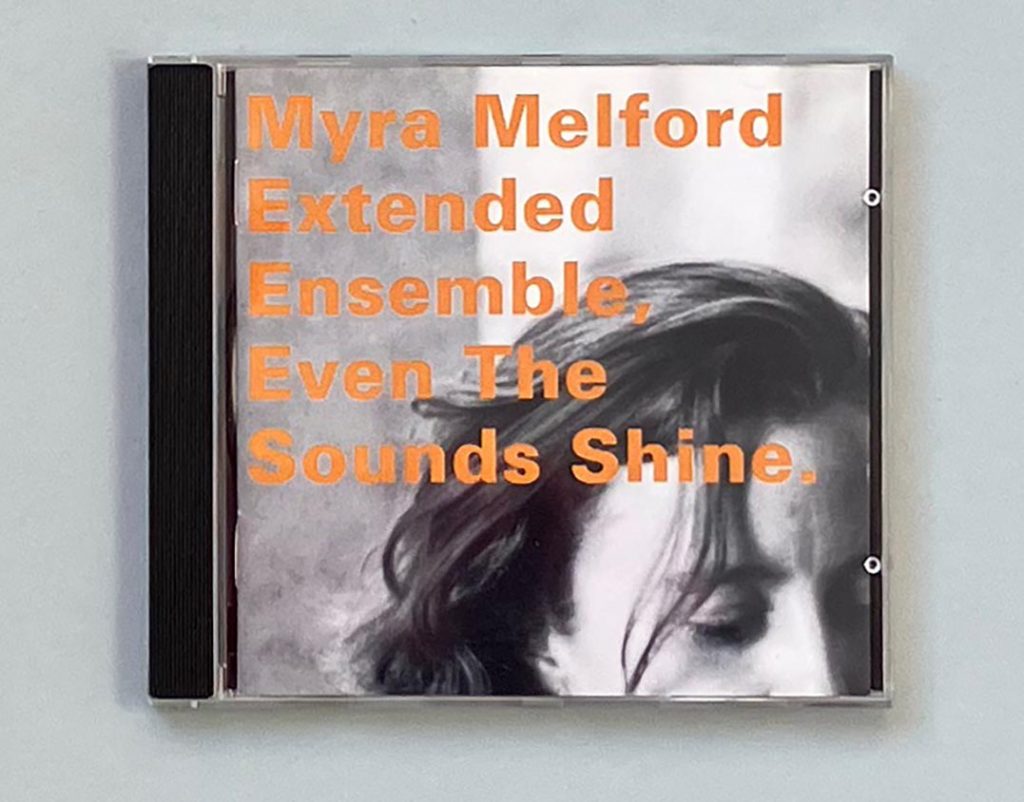 Myra Melford Extended Ensemble, Even the sounds shine (HatART CD 6161, 1995) uses Stefan Fuhrer's series design.

Within the Hat ART series, two streams emerged. There was Hat Jazz, at first with individual covers but consistent white-out-of-red ITC American Typewriter text on the spine. Hat Now covered the contemporary classical music that the company then also began to issue: recordings of pieces by John Cage and Morton Feldman have been its staple fare, and Braxton a contributor here too. These shared the same spine typography, but with text in yellow on red, and the covers have come to be standardized in spare black-and-red-on-white text. Meanwhile, from the early 1990s, the jazz series was consolidated in a succession of standard solutions: a simple two-colour image and type 'bed', designed by Ecke Bonk; then an even simpler format of orange-text over black-and-white photo, designed by Stefan Fuhrer in Vienna.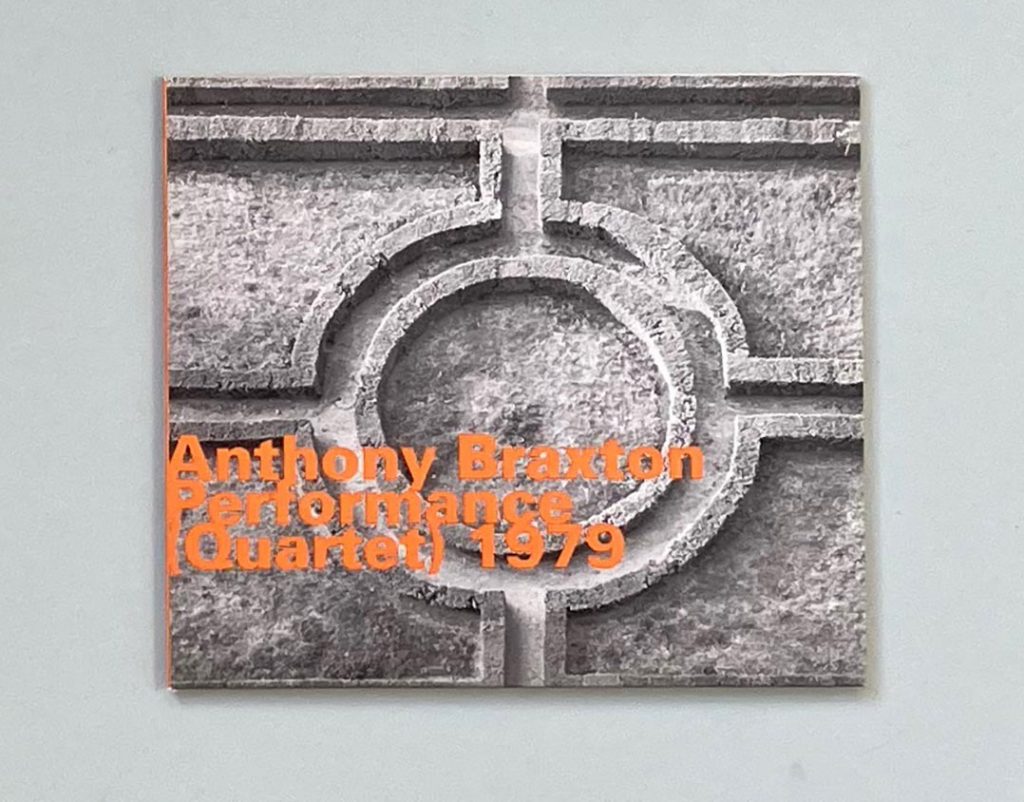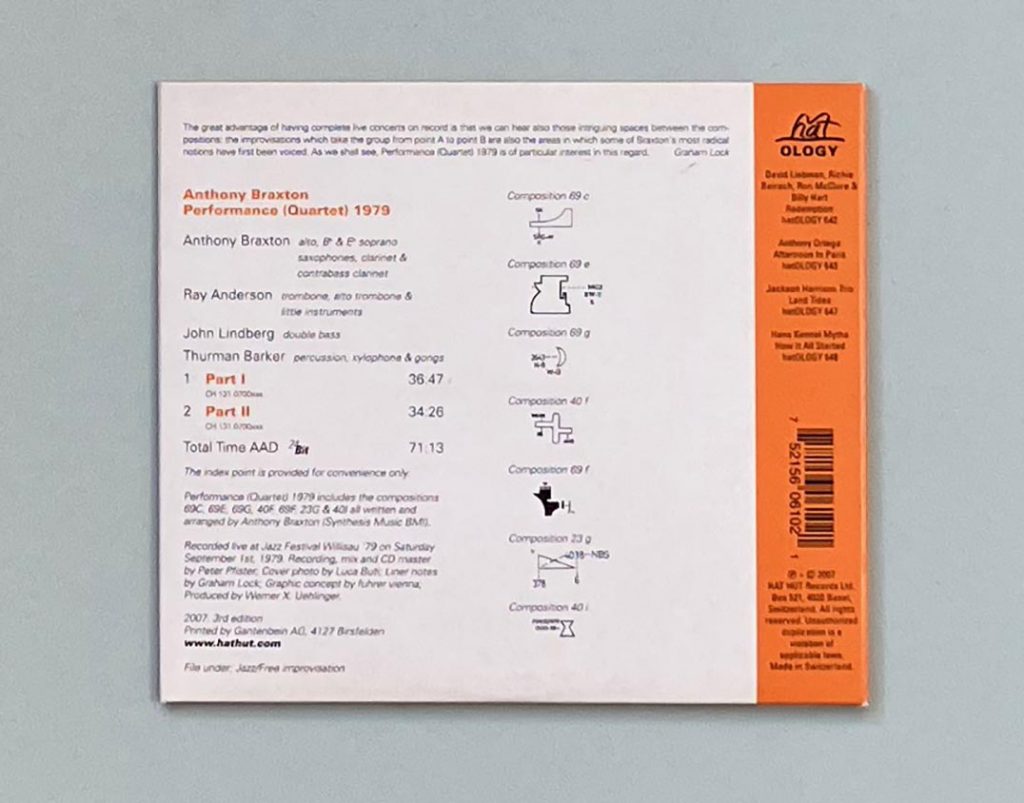 Anthony Braxton, Performance (Quartet), 1979 (HatOLOGY 610, 2007); series design by Stefan Fuhrer.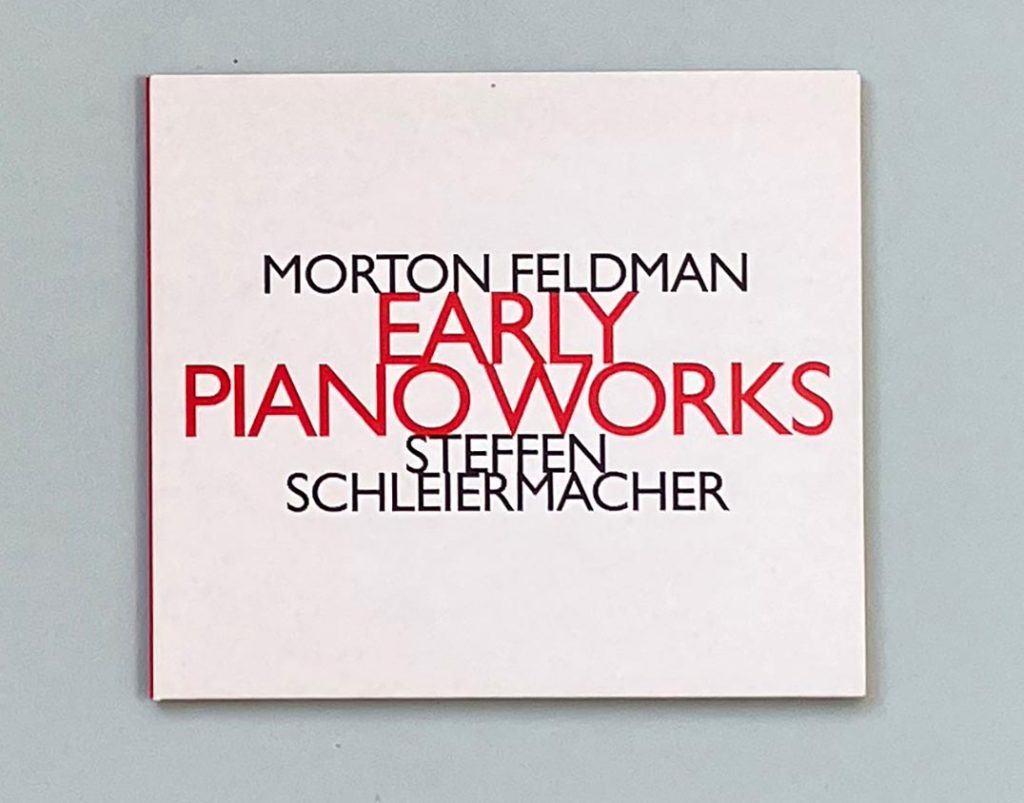 Morton Feldman, Early piano works (Hat[now]ART 138, 2003); series design by Stefan Fuhrer.
The latest developments came in 1997. Following both a musical and ecological imperative, the jazz issues were put into the HatOLOGY series. These are limited editions of a few thousand copies (the exact number depending on projected sales), not to be reprinted. The pack is card only – no plastic – with the disc carried in a simple slit. Covers are designed within a development by Fuhrer of his previous format, now beefed up with stronger type, and four-colour printing that brings a depth and richness to the two colours (black and orange) of which they are seemingly made. The 'contemporary composed' issues continue, as half the label's output, under the rubric of hat[now]ART. These are also in card packs, with defiantly sober and effective type-only covers. There is also a hatNOIR series for spoken-word recordings and other unclassifiables. New artists, both younger and older, continue to join the label. Their music is wonderfully indifferent to the age- and image-fixated product of the rock and classical markets. Even with a long-standing subvention from the Swiss Bank Corporation, Uehlinger says it's still 'Sisyphus work'. But, reaping the harvest of 25 years' labour, he adds, with some irony, that these days the journey is 'mostly downhill'.2
Hat Hut Revisited
Hat Hut's Revisited series, started in 2020, and which is now in full flight, is another intriguing move in this label's history. Werner Uehlinger explains:
'During my early "schooldays" in the 1960s, as a consumer and regular listener of LPs, I experienced many artists with great recordings. The series "Revisited" of Hat Hut Records are made up of a selection of important releases from that decade which I would like to share with you in my passion for these creative years in Avantgarde Jazz.'
The stategy of a typical Revisited CD is to take two LPs by an artist of that time, and to bring the tracks together on one CD. The constraints of the recording media play a significant part here. One side of an LP gives 22 minutes, maximum; so a whole vinyl album contains at most 44 minutes – in practice a bit less. A CD that follows the industry standard will contain a maximum of 80 minutes of music (including the length of the pause between tracks). So the logic of 'two LPs on one CD' is irrestistible. Hat Hut's move is to use this formula to advantage. The material is chosen to show the changes that were taking place in those years of rapidly moving modern jazz.3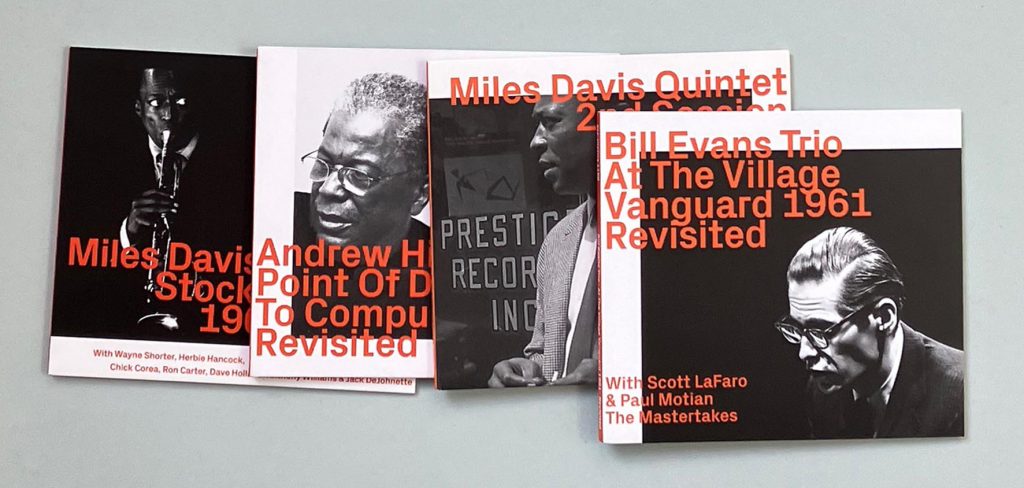 For example, the two Miles Davis Quintet recordings brought together on ezz-thetics 1130 (2022), demonstrate the jump that took place over two years – a jump in the composition of the group, of musical sensibility, of playing techniques (electrification), even of social-political resonance. The first part is from a concert in Stockholm, 31 October 1967. This was the second great Davis quintet (with Wayne Shorter, Herbie Hancock, Ron Carter, Tony Williams), formed late in 1964 and then in autumn 1967 entering its last months as a unified group. In 1968, Dave Holland would replace Ron Carter on bass; Herbie Hancock would leave to form his own group, being replaced by Chick Corea, mostly playing on electric pianos; finally the drummer Tony Williams left, replaced for a while by Jack DeJohnette. The second Stockholm concert on this CD is from 5 November 1969: the music is from this further Miles Davis Quintet, with only Wayne Shorter remaining. The music is darker, electrified (literally), with currents of rock beginning to flow through it. No more 'Round midnight', 'Gingerbread boy' or other jazz standards: this was the moment of Miles Davis's 'Bitches brew'. On the CD there is no pause between the last track from 1967 and the first from 1969, giving an extraordinary moment of shock. The running time of the two parts is 79:46.
Two of Andrew Hill's Blue Note LPs are presented on ezz-thetics 1139 (2022): Point of departure, his 'ne plus ultra' recording of 1964, and, from 18 months later (1965), Compulsion!!!!!, a wild, experimenting date. The music runs to 79:51. But this is not just a 'two for one'; it is a chance to compare and contrast between music that now sounds like classic modern American composed-and-improvised music and something less certain.
Other such comparative conjunctions in the Revisited series include: Eric Dolphy's Outward bound (1960) and Out to lunch (1964) – (ezz-thetics 1143, 2023, 79:24) – from a first, tentative date as a leader to one of the great recordings of modern jazz; Don Cherry's Where is Brooklyn? (1966) and Eternal rhythm (1968) – (ezz-thetics 1129, 2022, 79:51) – demonstrating his jump from American jazz to previsions of world music; Cecil Taylor's Mixed (1961) and Unit structures (1966) – (ezz-thetics 1110, 2021, 69:27) – his progress from pieces with echos of hard bop towards his own music.
As well as these comparative issues, there is another clear category within the Revisited series. These are CDs that put together tracks that appeared first on disparate LPs, later reissued in CD replicas of those LPs. Thus Thelonius Monk: celebrating 75 years of his first recordings (ezz-thetics 1141, 2022, 71:42) contains Monk's studio recordings from sessions in 1947, 1948, 1951, 1952, presented in order of their original release.
On 26 October 1956, the 'first' Miles Davis quintet recorded 12 pieces that were then issued by Prestige on various LPs: exploitation is an appropriate term for what was going on here. On 2nd session 1956 revisited (ezz-thetics 1140, 2022, 74:28) this music is brought together on one disc, which lets one appreciate more clearly the astonishing achievement of this group.
The most recent release in the Revisited series is the Bill Evans trio's At the Village Vanguard 1961 (ezz-thetics 1159, 2023, 79:57). Like Hill's Point of departure and Dolphy's Out to lunch, this is classic modern American music that gives pleasure and rewards on every re-listen. Like the Davis 2nd session 1956, it was recorded on one day (25 June 1961), though in what may have been slightly calmer conditions than those of the Prestige set for the Davis quintet. There were two sets in the afternoon and three in the evening. Evans's Village Vanguard music was originally issued by Riverside on two LPs: Sunday at the Village Vanguard and Waltz for Debby, with pieces from all the sets compiled to make well-balanced albums, rather than in any spirit of consistent documentation. That came much later, in 2005, when all the music was released on a box set of three CDs, including spoken introductions and interludes. Before this, CD reissues of the two LPs had included alternate takes, placed immediately after the preferred take. The ezz-thetics Revisited CD follows the principle of including all the pieces from the original Village Vanguard LPs, without any alternate takes. Its new idea is to run the pieces without pauses, simply retaining the background noise of the club: conversation, occasionally the clink of a glass; these background sounds are present not just in the short intervals between pieces but throughout, as the musicians play. This was always part of the charm of these recordings: sublime music played to a room of New Yorkers who were also getting on with their lives as they listened.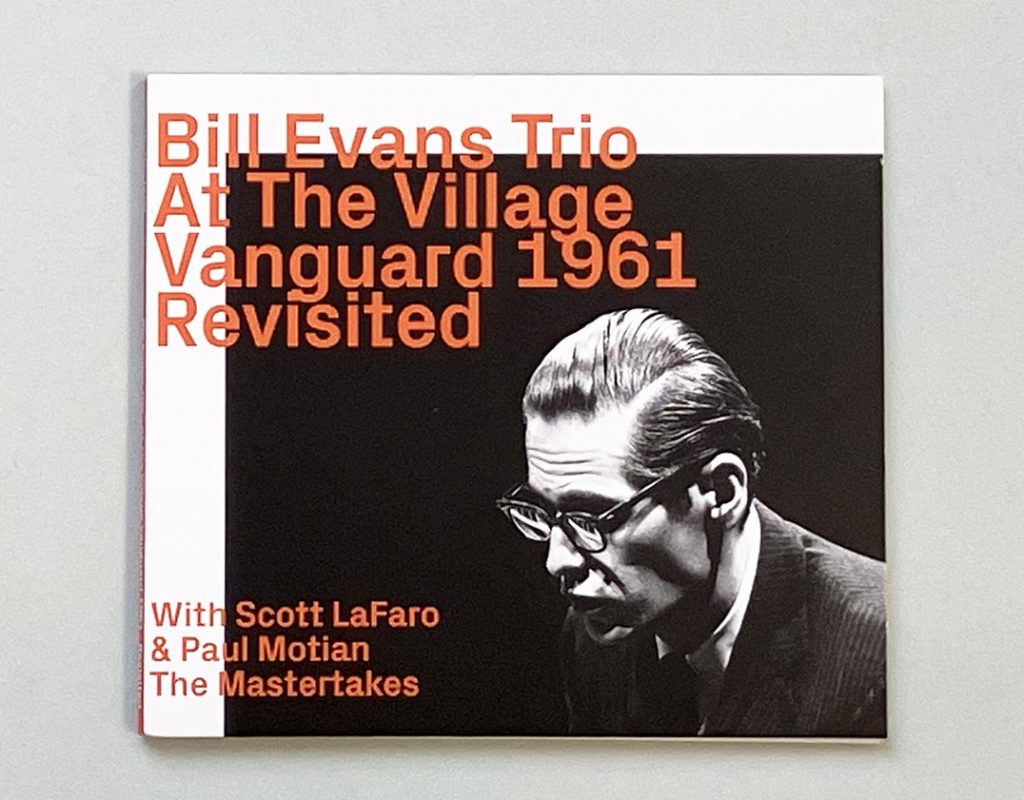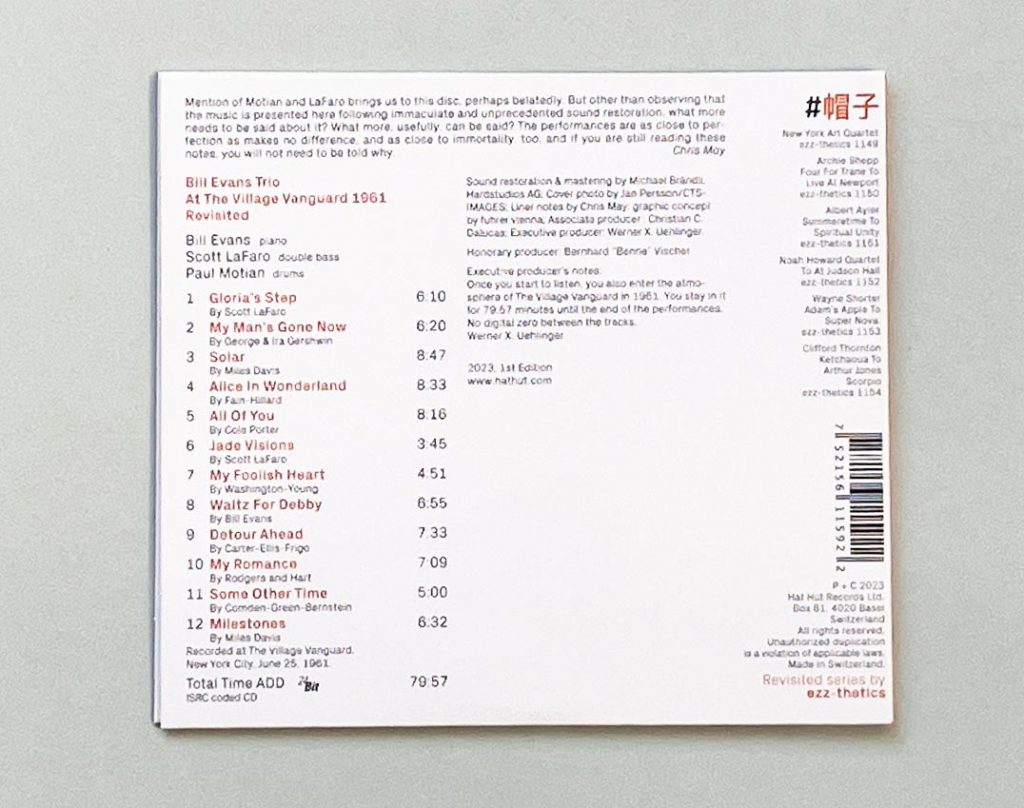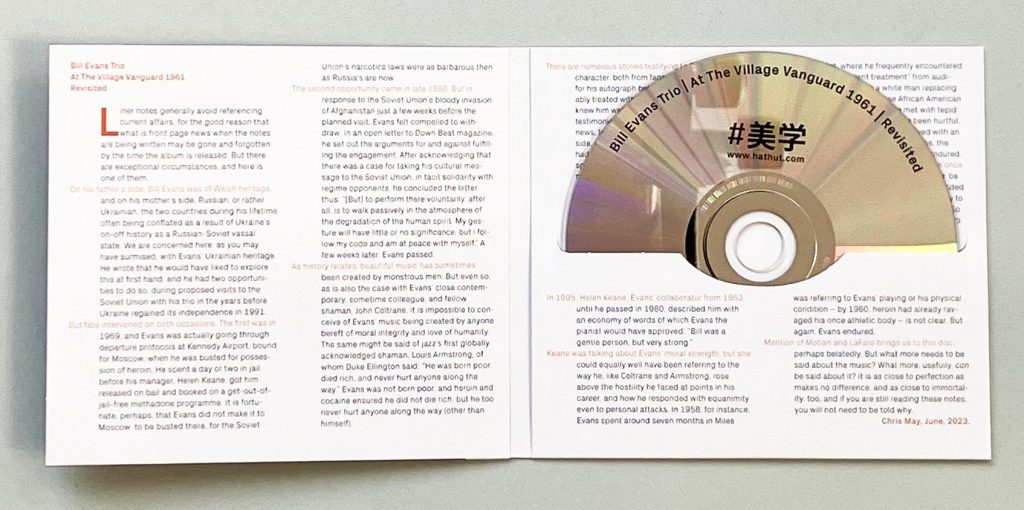 Bill Evans trio, At the Village Vanguard, 1961: revisited (ezz-thetics 1159, 2023); series design by Stefan Fuhrer.
I suspect this device of running the tracks together may have been inspired by the need to fit the whole lot into 80 minutes, which they do – by 3 seconds. In reality, the music was played over half a day, and even if some of these tracks were played in the sequence of the CD, there would have been longer breaks between them. So this sequence, and the gaps between the pieces, are artifices. But the gain in this revisitation is that the artifice of the two seemingly unrelated LPs is dispensed with. We have the music in one sequence, without the possible irritation of hearing one piece immediately followed by an alternative version.
Werner Uehlinger has joined the music-download culture in a restrained way through his Bandcamp pages. One can buy and download a whole album or single tracks. This feels like a reluctant move from a label that is still very committed to the material artefact of the CD; though, unlike some other new music labels, Hat Hut hasn't rejoined the vinyl world. As these notes on the Revisited series suggest, the material constraints of the CD format stimulate thought and invention. The slim, elegant Revisited CDs pack a great deal of punch.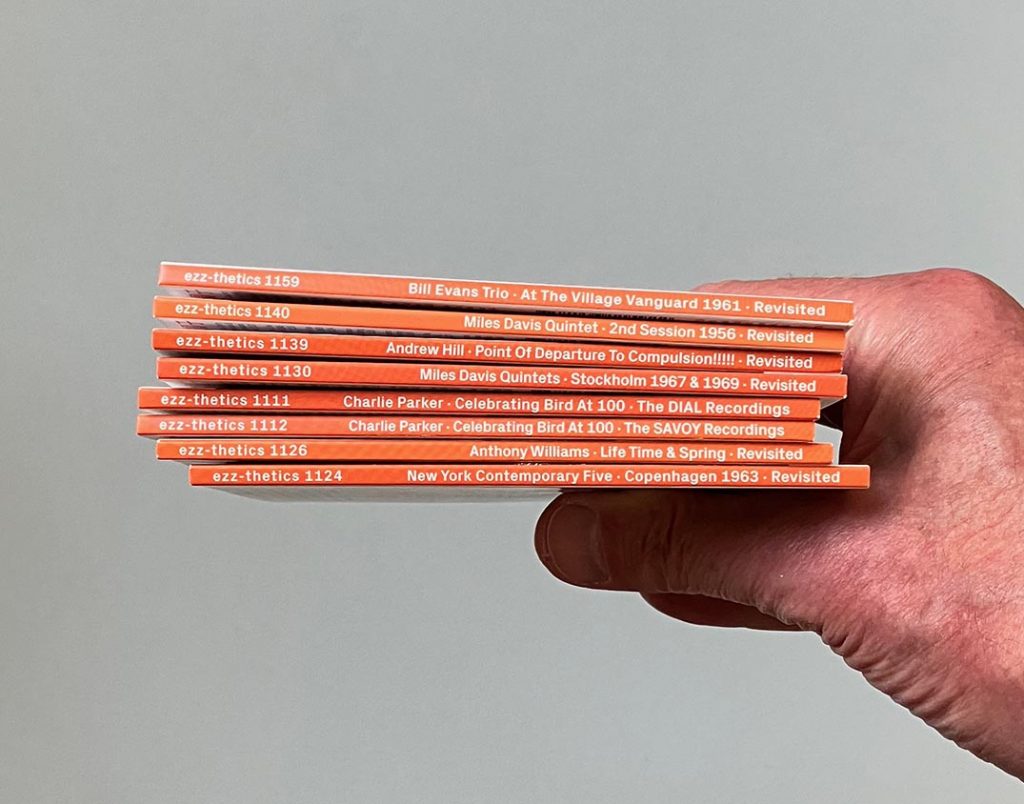 ————————————————————
Robin Kinross
————————————————————
Notes
Here and elsewhere, I have been indebted to a radio feature by Brian Morton on Hat Hut. This was broadcast on BBC Radio 3's fondly remembered programme 'Impressions' (3 July 1993): BBC radio never managed anything quite as good in its coverage of jazz. I have also used my own collection of CDs, as well as – for the original article of 1999 – Hat Hut's printed leaflets and catalogues. Werner Uehlinger was one of the nineteen 'Einzelgänger' (people who go their own way) featured in an issue of the Swiss cultural magazine Du. The article by Dieter Bachmann ('Werner X. Uehlinger: happy new ears!', Du (no. 646, 1995, pp. 84–7) includes the story of Hat Hut's first release and a picture of its fold-out cover; it gives some attention to the design and production of the records. Uehlinger, who loves word-plays, also explained to Dieter Bachmann the meaning of the name of the label: 'Hut' in German means 'hat' in English; the hat belonged to his first designer, Klaus Baumgärtner. Thanks to John Walters at Eye for publishing my original piece.
Hat Hut lost its subsidy from bank in the early 2000s, but was able to continue; private supporters have helped here.