The Gerrit Noordzij Prize, organized by the Type and Media postgraduate course at the Koninklijke Academie van Beeldende Kunsten (Royal Academy of Art) in The Hague, is awarded every three years. Last week it was presented to the type designer Cyrus Highsmith, and the previous winner, Karel Martens, was celebrated in a seminar, an exhibition, and a book.
The seminar, on the afternoon of Saturday 7 March, was an entertaining affair: old students or old quasi-students of Martens spoke about the man and his part in their development. There were some very touching and also high-spirited contributions, from among others (and these stay clearest in the memory) Roelof Mulder, Thomas Castro, and Fred Smeijers. Then Robin Kinross introduced Richard Hollis – a designer who shares something with Martens, in approach and in experiences – who then spoke about Martens and his place in the Dutch tradition of graphic design.
On Friday 6 March, the book had been presented. This work, titled Reprint, is another contribution to a growing list of Martens titles. These are Printed matter / Drukwerk (1996, 2001, 2010), Counterprint / Weerdruk (2004), Full color (2013), and now Reprint (2015). Spot the connnecting theme! The latest book reproduces a selection of Martens's prints and his graphic work from the last few years, and has short texts by David Bennewith (KM as a teacher) and Robin Kinross (on the prints). It is certainly worth getting hold of. Copies were given out at the prize events at the KABK. A trade edition will be published by Roma Publications.
The exhibition stays open until 2 April. Karel Martens and the Type and Media students – overseen by the GN Prize organizer Jan Willem Stas – have made a beautiful display. It is certainly worth a long detour.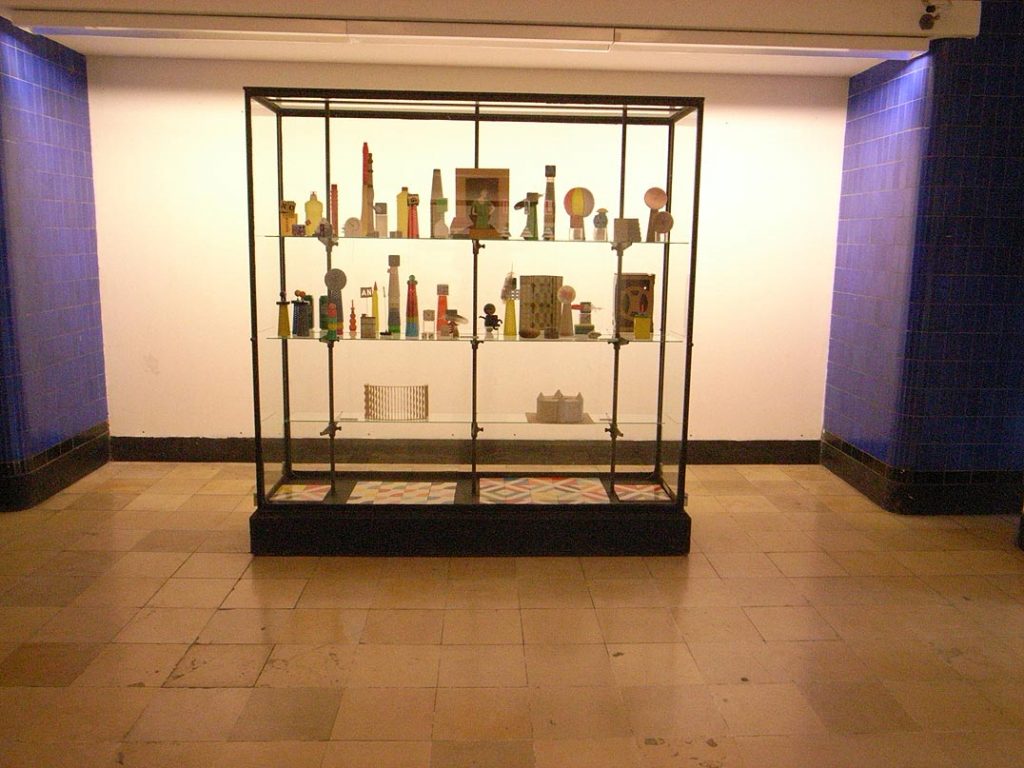 One of two cabinets at the entrance to the exhibition.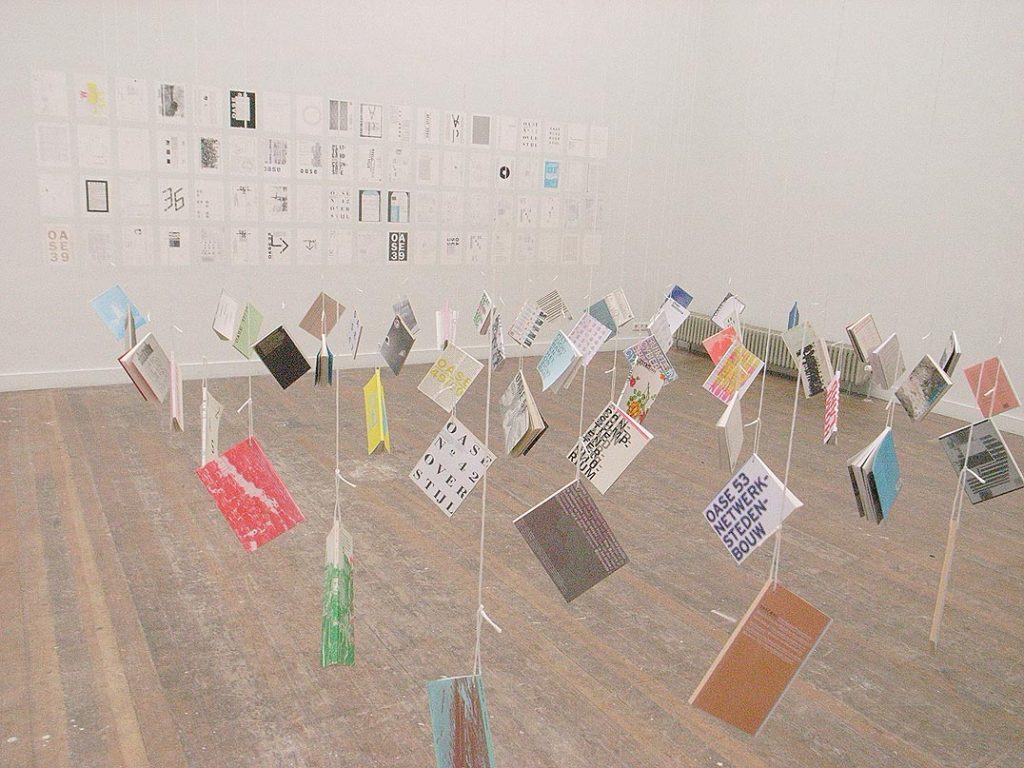 Copies of 'Oase'. On the wall at the back: sketches and instructions by KM for 'Oase' .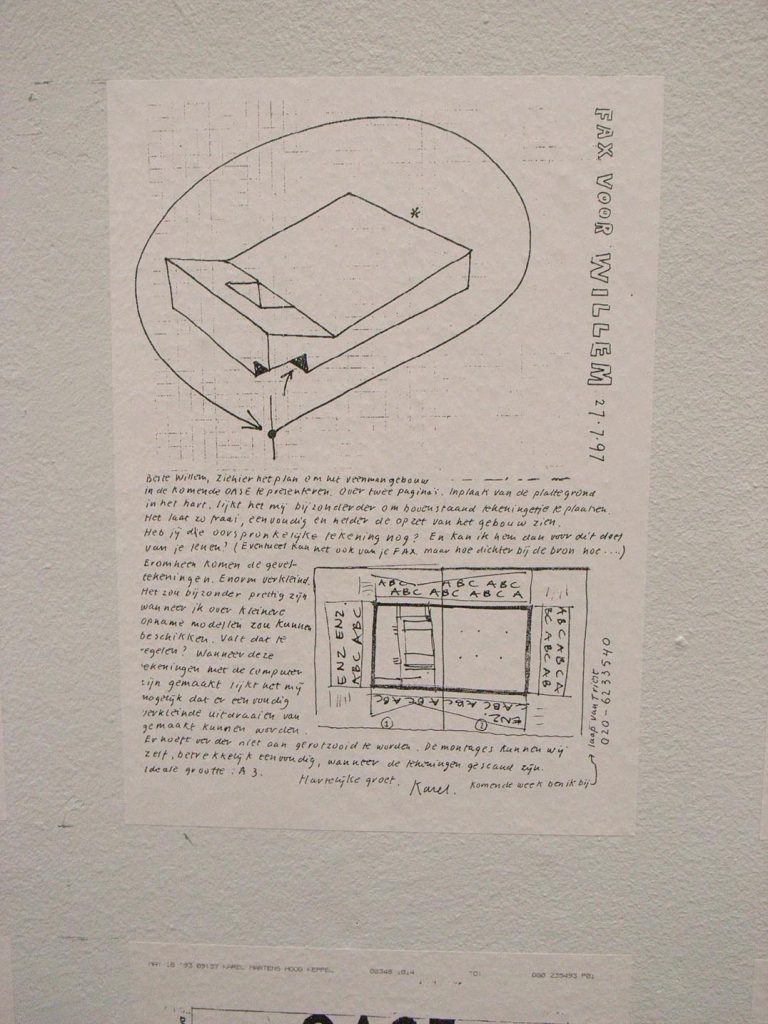 One of the instructions for 'Oase'.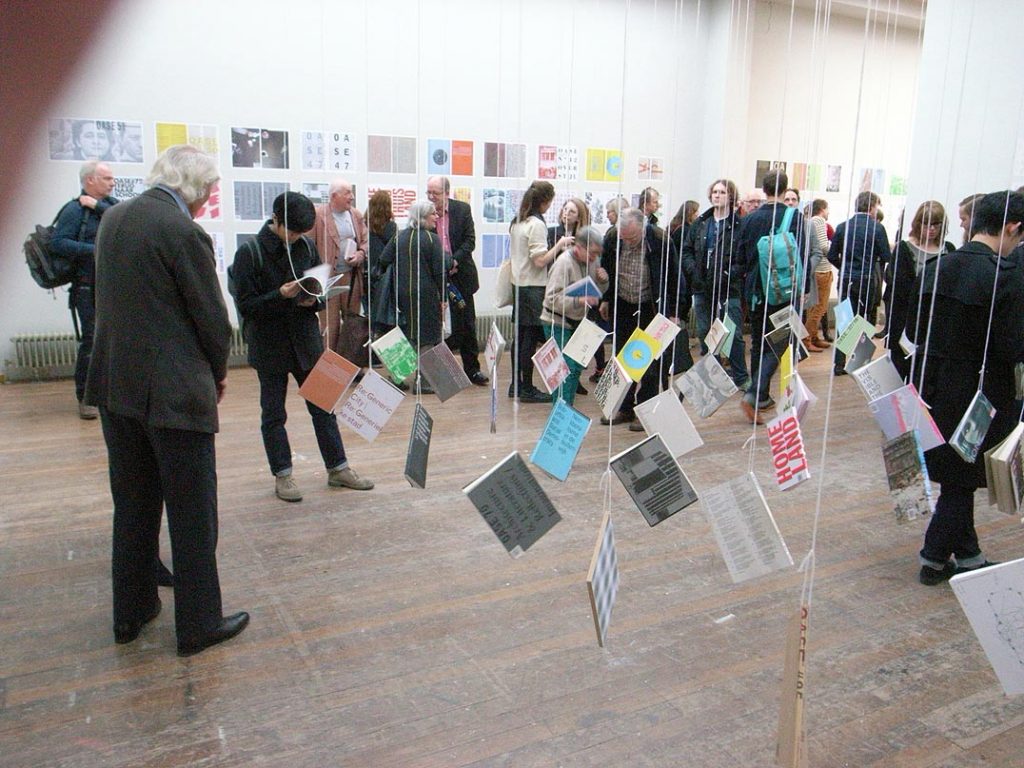 The crowd at the opening on Friday 6 March. (Wim Crouwel with his back to the camera.)
Robin Kinross